A New Residential Air System Leads To Better Efficiency And Saves Money
Residential HVAC installations are as unique and varied as the homes they go into. Some systems require very specific parts and have particular guidelines for installation, which ensures your system stays highly efficient. We also have a large selection of traditional systems and even have a few "green" options for our environmentally conscious customers.
We install residential HVAC systems for many different needs. Our customers for residential systems may be homeowners or builders in the process of construction on a new home or they may simply need to replace an older condenser unit. Whatever your need, we are here to help. We are proud to provide residential HVAC Installations to The Dallas-Fort Worth area and beyond.
You can trust our professionally-trained, certified technicians to install your air conditioning system right the first time and on time.
Types of Systems
We use and recommend quality products from Carrier. Carrier is the industry-leading innovator of heating and air conditioning systems. There are many different types of heating and air systems available for home installation such as:
Split Systems– A split system HVAC system is a system that has two components: one inside of your house and one outside. There are many types of split systems but they are usually composed of a cooling unit on the outside and heating unit on the inside.
Hybrid-Heat Split System– A hybrid split system follows the same principles as a split system with a few variations. While most split systems have an air conditioner on the outside of the house, the hybrid system has a heat pump. This heat pump has a set threshold that, when the temperature outside reaches it, the heat pump assumes control of your internal temperature, changing it as needed. These systems are considered more efficient and economic.
Ductless Split Systems– Ductless split systems are great options for heating or cooling single rooms without the need of conventional ductwork. The air handler is placed on a wall in the room and can provide your room with hot and cold air. These systems are ideal for room add-ons or garages.
Packaged Systems– A packaged system is the opposite of the split system. It is one unit that houses all components of your HVAC in a single metal cabinet.
Geothermal Heat Pump System– A geothermal heat pump system utilizes the ground's natural heat as energy for providing your home with hot and cold air. These systems are incredibly efficient and can even reduce your energy bills by up to 70%!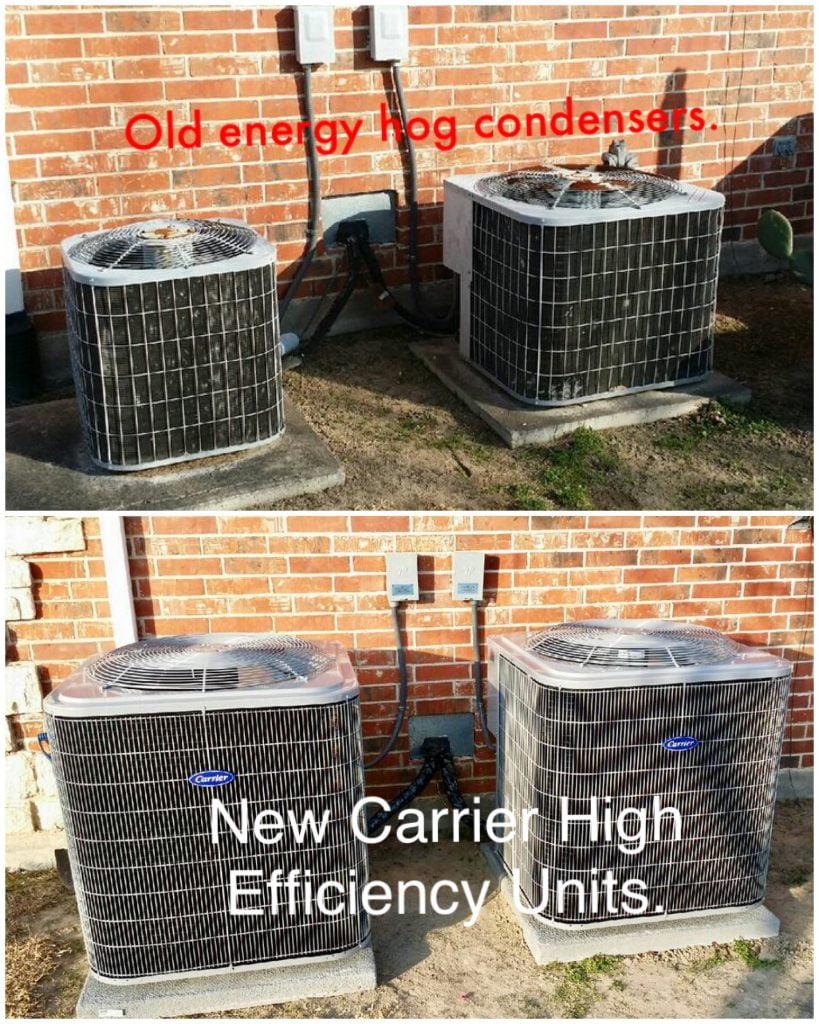 Some Reasons to Install a New Air System
The Environmental Protection Agency recommends air conditioners over 10 years old and furnaces greater than 20 years old be replaced for operational efficiency. The great thing about the efficiency gained from new installations is that it leads to a reduction in energy consumption. This will save you money in monthly utility costs!
Efficient heating and cooling systems will help you conserve energy and reduce costs
Air quality options to improve your indoor comfort
Attic ventilation and insulation – A properly ventilated attic will extend the life of your air conditioning system and save you 15% to 20% on your utility bills.
No matter the system or challenges a home may present, Ellis Air Conditioning and Heating has the perfect solutions to meet your needs.
Call Ellis AC For Your Residential HVAC Installation
If you are in the Dallas-Fort Worth area and thinking of how a new residential HVAC system can improve your house, then Ellis AC is happy to provide you with unparalleled customer service and quality craftsmanship. We want you to be as comfortable as possible in your home, so we can help guide you through the process and answer any questions you may have. Give us a call today or fill out our online form so we can install your new HVAC system.